The Waldviertel Railway
A journey of discovery for all the family
Season from 29 April to 1 November 2023
Advent cruises: 2 & 3 December 2023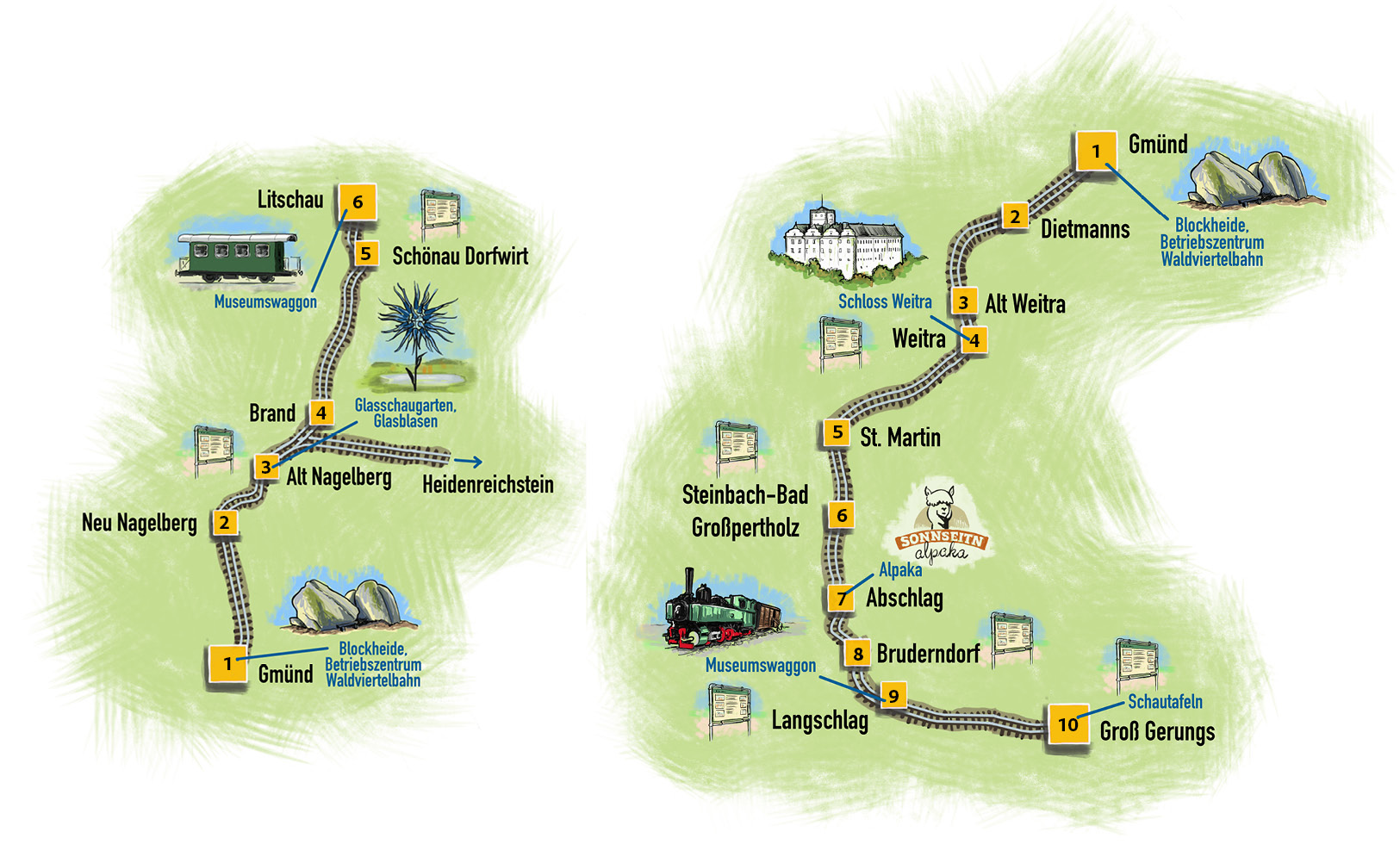 Click on the numbers of the stops to get more information.
Discover the most beautiful spots of the Waldviertel between Gmünd and Groß Gerungs as well as Gmünd and Litschau with the traditional narrow-gauge railway. Various insider tourist tips and adventure stops lie along the 120-year-old railway line. In the nostalgic set, pulled by a steam or diesel locomotive, you can enjoy a special atmosphere. The Jausenwagerl (snack wagon) is always on board, where you can enjoy refreshments and snacks. The bicycle carriage is also always part of this set.
The Golden Railcar complements the range of vehicles on offer on the Waldviertelbahn. Its special feature: Here, your train driver is also your travel companion.
Our tip: A journey of discovery by train and bike. Simply combine a sporty cycling excursion with a leisurely ride on the Waldviertelbahn. The "Waldviertelbahn Cycle Path" and stages of the "Iron Curtain Trail" are ideal for this.
Both the obligatory advance reservation of the parking space and the transport of your bike are free of charge.
The highlight for the youngest passengers is the Waldviertelbahn puzzle rally and the children's play carriage.
Children experience an exciting journey with the two mascots "Paul and Lisa". Large discovery boards await at several stops. On these boards, "Lisa and Paul" reveal important clues that help solve the riddles. The correct answers are entered on a discoverer card. At the end, every child receives the award for being a Waldviertelbahn professional! Another special feature is the children's play car, which is included in all trips with the diesel nostalgia set.